Net Art Syllabus ~ in progress
Prof. Domenico Quaranta
email: domenicoquaranta@fadbrera.edu.it
classroom: teexz7d

02. Out of the Gallery, Into the Wild
06. Surfing, Collecting and Copying
Obiettivi del corso: Coerentemente con la sua natura teorico-laboratoriale, il corso ha il duplice obiettivo di introdurre i frequentanti alla storia e alle forme della net art, così come si è sviluppata negli ultimi trent'anni, dalle origini agli sviluppi più recenti; e di portarli a familiarizzare con questi linguaggi dal punto di vista operativo, attraverso lo sviluppo di un elaborato finale che si collochi consapevolmente in questo fluido e articolato territorio. A conclusione del corso, lo studente dovrà essere in grado di orientarsi nella pluralità di forme e linguaggi della rete, e di proporre e realizzare progetti che manifestino il livello di comprensione raggiunto.
Programma: Sin dai suoi esordi negli anni Novanta, la Net Art si è caratterizzata per l'utilizzo esteso di pratiche di networking e per uno spiccato approccio multidisciplinare, che si è radicalizzato nel corso degli anni fino agli attuali approcci "post digital" e "post internet", che non riconoscono alcuna validità alla nozione di specificità mediale, rivendicando la possibilità di declinare un nucleo coeso di poetiche, attitudini e strategie attraverso linguaggi differenti.
Con queste premesse, l'insegnamento della Net Art non può concentrarsi su uno o più linguaggi specifici, ma deve piuttosto mirare all'acquisizione, da parte degli studenti, delle citate poetiche, attitudini e strategie. Per questo, il corso cerca una stretta correlazione tra la parte storico teorica e la parte laboratoriale, finalizzata allo sviluppo di progetti che dispieghino l'avvenuta acquisizione delle questioni indagate nella parte teorica.
Il percorso teorico cercherà di offrire una panoramica il più possibile esaustiva della storia della net art, dalle sue radici nelle pratiche di networking degli anni Settanta e Ottanta, ai suoi esordi negli anni Novanta, fino alle sue declinazioni più recenti. A questo percorso storico sarà affiancata un'indagine approfondita di alcune questioni trasversali: la scelta di operare su una piattaforma pubblica come alternativa allo spazio protetto del "cubo bianco"; la conseguente possibilità di intercettare altri pubblici operando in maniera cosciente in una "economia dell'attenzione"; la questione dell'intimità di una pratica che si manifesta nello spazio privato del computer dell'utente; la natura mitopoietica e auto-definitoria della net art; la scelta dell'autonomia che si manifesta nella creazione e gestione di reti di supporto, spazi espositivi, produttivi e discorsivi autonomi; le questioni del copyright e dell'appropriazione; la riflessione critica sul mezzo e le sue peculiarità.
Parallelamente il corso approfondirà, attraverso il supporto di materiali documentari, alcuni snodi cruciali della storia della rete, delle comunità che la hanno abitata, degli hype tecnologici e dei fenomeni socio-politici che l'hanno plasmata e che determinano la sua attuale configurazione: questioni come l'emergere della rete nel contesto delle controculture degli anni Settanta; la nascita del software libero; la pirateria e il movimento open access; la sorveglianza e l'hacktivism; i memi di internet e il mito della singolarità.
Nella parte laboratoriale, gli studenti saranno invitati a sviluppare, in maniera individuale o collettiva, progetti sulla base di queste sollecitazioni, e a portarli a compimento entro la fine delle lezioni.
Modalità d'esame: Alla valutazione finale dei partecipanti al corso concorreranno:
La valutazione, tramite prova orale, della preparazione teorica, con riferimento alla 1) bibliografia obbligatoria, 2) alla preparazione di un libro a scelta dalla bibliografia orientativa e 3) alle dispense del corso messe a disposizione durante le lezioni;
La valutazione del progetto finale, che dovrà essere sottoposto alla revisione del docente almeno una volta nel corso delle lezioni o comunque entro e non oltre 10 giorni prima della sessione d'esame.
Gli studenti non frequentanti dovranno affiancare alla preparazione della parte teorica e allo sviluppo del progetto finale la stesura di una tesina di massimo 8.000 battute dattiloscritte, ispirata alla lettura di uno dei volumi suggeriti nella bibliografia di riferimento.
Bibliografia obbligatoria
Domenico Quaranta, Net Art. Scritti sull'arte nell'era dell'informazione, Postmedia Books, Milano 2023. ISBN 978-8874903603
Bibliografia di riferimento
AAVV, Connessioni leggendarie. Net Art 1995 - 2005, Ready Made, Milano 2005. (Italiano, free download PDF)
AAVV, Art and Internet, Black Dog Publishing, London 2013. (Inglese, informazioni)
AA.VV., (re)programming: Strategies for Self-Renewal [a reader], Aksioma, Ljubljana 2022. (Inglese)
AA.VV., From Commons to NFTs, Aksioma, Ljubljana 2022. (Inglese)
Tatiana Bazzichelli, Networking, Costa & Nolan, Milano 2009. (Italiano/inglese, Free download PDF)
Josephine Bosma, Nettitudes: Let's Talk Net Art, Institute of Networked Cultures, 2011. (Inglese)
Bani Brusadin, The Fog of Systems, Aksioma, Ljubljana 2021. (Inglese)
Lauren Cornell, Ed Halter (a cura di), Mass Effect: Art and the Internet in the Twenty-First Century, The MIT Press, Cambridge 2015. (Inglese)
Marco Deseriis, Giuseppe Marano, Net.art. L'arte della connessione, Shake, Milano 2003. (Italiano, Free download PDF)
Rachel Greene, Internet Art, Thames and Hudson, London 2004. (Inglese)
Kamilia Kard, Arte e Social Media. Generatori di sentimenti, Postmedia Books, Milano 2022.
Marco Mancuso, Arte, tecnologia e scienza. Le art industries e i nuovi paradigmi di produzione nella new media art contemporanea, Mimesis, Milano 2018.
Gene McHugh, Post Internet, Link Editions, Brescia 2011. (Inglese, Free Download PDF)
Ceci Moss, Expanded Internet Art: Twenty-First-Century Artistic Practice and the Informational Milieu, Bloomsbury 2019. (Inglese)
Domenico Quaranta, In Your Computer, Link Editions, Brescia 2011. (Inglese, Free download PDF)
Domenico Quaranta, Media, New Media, Postmedia, Milano, Postmediabooks 2010; 2018 (English version: Beyond New Media Art, Link Editions 2013. Free download PDF)
Domenico Quaranta, Valentino Catricalà (a cura di), SOPRAVVIVENZA PROGRAMMATA. Etiche e pratiche di conservazione, dall'arte cinetica alla Net Art, Edizioni Kappabit, Roma 2020. Italiano, informazioni
Domenico Quaranta, Surfing con Satoshi. Arte, blockchain e NFT, Postmedia Books, Milano 2021 (Versione inglese: Surfing with Satoshi. Art, Blockchain and NFTs, Postmedia Books, Milan 2022).
Elena Giulia Rossi, Mind the Gap: La vita tra bioarte, arte ecologica e post internet, Postmedia Books, Milano 2020.
Julian Stallabrass, Internet Art: The Online Clash of Culture and Commerce, Tate Gallery Publishing, 2000. (Inglese)
Valentina Tanni, Memestetica, NERO, Roma 2020. (Italiano, informazioni)
Brad Troemel, Peer Pressure, Link Editions 2011. (Inglese, Free download PDF)
MTAA, Simple Net Art Diagram, 1997
Kevin Bewersdorf, The Art Happens Here, 2008
Rhea Myers, Simple Blockchain Art Diagram, 2016
Speaker Notes: Riflessione introduttiva su alcuni aspetti della net art: l'importanza della comunicazione e della comunità; la rete non solo come infrastruttura tecnica, ma come organismo cibernetico generato dall'intelligenza e dal sentire collettivo delle persone.
Alexei Shulgin, Natalie Bookchin, Introduction to net.art (1994 - 1999), 1999
Paul Slocum, Catalogue of Internet Artist Clubs, 2016
Rhizome, Net Art Anthology, 2016 - 2019
Evan Roth, #1 Bad Ass Mother Fucker. Google intervention, 2005 to present
etoy, Digital Hijack, 1996
Speaker Notes: Operando su una piattaforma pubblica, la net art affianca a un pubblico di "affezionati" un vastissimo pubblico potenziale di spettatori "generici": il "bored at work network" (Jonah Peretti) e l'accidental audience (Brad Troemel). Lungo tutta la sua storia, la net art ha sviluppato diverse strategie per agganciare e coinvolgere questo tipo di pubblico: manipolando i motori di ricerca e i sistemi di indicizzazione, agendo al di fuori della etichetta di "arte", attingendo a materiali o lavorando su temi che possono attrarre un pubblico non specializzato, operando attivamente su piattaforme pubbliche destinate ad altri usi.
Alexei Shulgin, Easylife XXX, 1997
Olia Lialina, Animated GIF Model, 2005
Petra Cortright, Youtube Channel, 2007 - ongoing. More info
Brad Troemel et al, The Jogging, 2012 - 2014.
«On Tumblr, users can look at art without even realizing it. Do they democratize the work or merely make it an advertisement for itself?»
Brad Troemel, "The Accidental Audience", in The New Inquire, March 2013
Jon Rafman, Still Life (Betamale), 2013. More info
Focus On: Alexei Shulgin
Andy Bichlbaum and Mike Bonanno, RTMark, 1993 - 1999. Gwbush.com, 1999; Gatt.org (1999 - 2002) nella Net Art Anthology
Andy Bichlbaum and Mike Bonanno, The Yes Men, 1999 - in corso
Speaker Notes: Operare su una piattaforma pubblica vuol dire anche poter sfruttare le potenzialità, e subire i rischi, insiti nel lavorare al di fuori di un contesto "protetto" e di una nozione da cui tutto è tollerato; vuol dire poter agire direttamente al livello della realtà, e non solo a quello dei significanti. Gli artisti sfruttano spesso questa potenzialità simulando o rubando identità, creando falsi mediatici. Tuttavia, la rete non è uno spazio totalmente libero, ma un contesto socioeconomico in via di definizione: operare in rete, quindi, vuol dire anche agire all'interno di, o reagire a, un set di regole stabilito da altri, dalla netiquette ai termini di servizio delle piattaforme attuali.
UBERMORGEN.COM, [V]ote-auction, 2000; nella Net Art Anthology
etoy, TOYWAR, 1999 - 2000
0100101110101101.org, Darko Maver, 1998
0100101110101101.org, Vaticano.org, 1998
Vuk Cosic, Documenta Done, 1997
Cornelia Sollfrank, Female Extension, 1997
Electronic Disturbance Theater, Floodnet, 1998
0100101110101101.org, Copies, 1998
Gazira Babeli, 2006 - 2009
Gazira Babeli, Gaz' of the Desert, 2007
Jon Rafman, Cool-Aid Man in Second Life, 2009
Cao Fei, I mirror, 2007
Cao Fei, RMB City. A Second Life City Planning, 2007 - 2011; Intervista
Fine Art in Second Life, Youtube Playlist
UBERMORGEN.COM, The EKMRZ Trilogy, 2005 – 2009: GWEI, 2005 (con A. Ludovico e P. Cirio) - Amazon Noir, 2006 (con A. Ludovico e P. Cirio) - The Sound of eBay, 2008
Paolo Cirio & Alessandro Ludovico, Face To Facebook, 2011
Les Liens Invisibles, Seppukoo, 2009
MODDR, The Web 2.0 Suicide Machine, 2009
Tobias Leingruber, Social ID Boureau, 2012
Kyle McDonald & Jonas Lund, Social Roulette, 2013
Ben Grosser, Go Rando, 2017
Ben Grosser, Order of Magnitude, 2018
Ann Hirsch, Scandalishious, 2008 - 2009
Constant Dullaart, TOS, 2012
Constant Dullaart, High Retention, Slow Delivery, 2014
Amalia Ulman, Excellences and Perfections, 2014
Jayson Musson, Art Thoughtz, 2010 - 2012
Wolfgang Staehle, Untitled, 2001
Focus On: Eva & Franco Mattes

0100101110101101.org, Life Sharing, 1998
Speaker Notes: Se da un lato la rete si configura come uno spazio pubblico, dall'altro permette di accedere a un livello straordinario di intimità. Un sito web può attirare milioni di utenti, ma la relazione che si attiva è sempre individuale - uno a uno. La net art si esperisce, nella maggior parte dei casi, sul proprio computer, nel proprio ambiente domestico, senza filtri e mediazioni; e con il computer dell'utente si relaziona, portando e sottraendo contenuti, chiedendo di installare programmi (o installandoli senza chiederlo), giocando con i software dell'utente ecc.
JODI, OSS: website and vintage video documentation
Douglas Davis, The World's First Collaborative Sentence, 1994 - in corso
Mouchette, 1996. Website and vintage video documentation
I/O/D,The Web Stalker, 1997. Browser alternativo
JODI, Wrong Browser, 2001. Browser alternativo
Mark Napier, The Digital Landfill, 1997 ca. Website and vintage video documentation
Mark Napier, The Shredder, 1998. Browser alternativo
Eva and Franco Mattes, The Others, 2011
Eva and Franco Mattes,My Little Big Data, 2019
Elisa Giardina Papa, Drawing from life, 2011
Netochka Nezvanova, m9ndfukc.0+99, 1999
[epidemiC] + 0100101110101101.org, Biennale.py, 2001
Entropy8Zuper!, skinonskinonskin, 1999
Jonas Lund, I'm Here and There, 2011; Talk to Me, 2017 - 2019
Francis Alys, The Thief, 1994
Barbora Trnková & Tomáš Javůrek, Screensaver Gallery, 2013 - in corso
buildinging, Idle Screenings, 2012 - 2014
Jaakko Pallasvuo, How To / Internet, 2011
Speaker Notes: Nata spontaneamente in rete senza un "mondo dell'arte" di riferimento, la net art ha sempre rivendicato una rigorosa autonomia nella definizione delle proprie "regole", e nella costruzione della propria storia. Anche quando questo "mondo dell'arte" si è sviluppato con il suo corollario di curatori, critici, riviste, istituzioni e libri, sono sempre stati gli artisti a segnare il passo, chiudendo una fase o aprendone un'altra con dichiarazioni, interviste, saggi e manifesti. A volte, gli statement sono dei veri e propri "progetti", e frequente è la tendenza a incorporare la riflessione teorica sulle proprie pratiche all'interno del lavoro, ad esempio in numerosi "video essay". Dalla net.art al Post Internet, un breve percorso attraverso la teoria della net art.
Alexei Shulgin, Net.art: the Origin, 1997
Alexei Shulgin, Natalie Bookchin, Introduction to net.art (1994 - 1999), 1999
Miltos Manetas, Neen Manifesto, 2000 - 2006
Miltos Manetas, Websites, the art of our time, 2002
Seth Price, Dispersion, 2002 - in corso. Versione italiana
Kevin Bewersdorf, Spirit Surfing, March 2008
Marisa Olson, in "Interview with Marisa Olson", March 2008
Artie Vierkant,The Image Object Post Internet, 2010
Harm Van Den Dorpel, Strategies, 2011
Focus On: Oliver Laric
The Thing, 1991 - in corso; nella Net Art Anthology
Speaker Notes: Nella net art, la ricerca di una autonomia è inevitabilmente passata attraverso l'autodeterminazione istituzionale, attraverso la creazione di piattaforme e network, l'organizzazione di "gruppi di navigazione" (surfing clubs) e di lavoro, la proposta di nuovi formati espositivi e di soluzioni che permettessero di bypassare il mondo dell'arte con i suoi punti d'accesso prestabiliti. Approfittando delle possibilità di networking e dell'economia dell'attenzione della rete, gli artisti hanno cercato di costruire da soli il proprio ambiente, dando vita a contesti che potessero funzionare da luoghi di aggregazione, spazi di lavoro e piattaforme di lancio.
Irational.org, 1996 - in corso
Ben Fry, Casey Reas, and collaborators, Processing, 2001 - ongoing
Rhizome.org, 1995 - in corso
Surfing Clubs
Nasty Nets, 2006 - 2012
Spirit Surfers, 2008 - in corso
Vvork, 2006 - 2012
Computers Club, 2008 - in corso
Brad Troemel et al, The Jogging, 2009 - 2014
Alternative Exhibition Formats
Rafael Rozendaal, BYOB - Bring Your Own Beamer, 2010 - in corso
Aram Bartholl, Speed Show, 2010 - in corso
F.A.T. Lab, Occupy the Internet, 2011
Artist Run Galleries and Projects
Olia Lialina, Teleportacia. The First Real net.art Gallery, 1998
Miltos Manetas, Whitney Biennial (2002) and Padiglione Internet (2009 - in corso)
Angelo Plessas, The Eternal Internet Brotherhood, 2012 - in corso
Manuel Fernandez, Domain Gallery, 2012 - 2014
IDPW, Internet Yami-Ichi, 2012 - in corso
Oliver Laric, Incomplete Timeline of online exhibitions and biennials, 2013
David Quilles, The Wrong Biennale, 2013 - in corso
Harm Van Den Dorpel, Left Gallery, 2015 - in corso
Solimán López, Hard Disk Museum, 2015 - in corso
Casey Reas, Feral File, 2021 - in corso
FOCUS ON: F.A.T. Lab
Domenico Quaranta (a cura di), Collect the WWWorld. The Artist as Archivist in the Internet Age, 2011 - 2014. Research blog
Kevin Bewersdorf, Google image search result for "exhausted" printed onto blanket, tie, dog leash and golf towel by Walgreens.com, 2009
Clement Valla, Postcards from Google Earth, 2010 - ongoing
Guthrie Lonergan, MySpace Intros Playlist, 2006
Cory Arcangel, Drei Klavierstücke op. 11, 2009
Elisa Giardina Papa, need ideass!?!PLZ!!, 2011
Taryn Simon and Aaron Swartz, Image Atlas, 2012
Evan Roth, Internet Cache Self Portrait: July 17, 2012, 2012
Dina Kelberman, I'm Google, 2011 - ongoing
Penelope Umbrico, Sunset Portraits from Sunset Pictures on Flickr, 2010 - ongoing
Aleksandra Domanovic, Anhedonia, 2007
Natalie Bookchin, Mass Ornament, 2009
Kai (Kari) Altmann, R-U-In?s / Garden Club, 2009 - ongoing
Cloaque, 2012 - 2017
Focus On: Jon Rafman
Speaker Notes: La scelta radicale di operare in un contesto differente da quello della galleria e del museo, e di confrontarsi con un mezzo nuovo, ha portato la net art a riprendere alcuni spunti tipici del modernismo, lavorando sugli elementi di base del mezzo: url, finestre, codici, barre di scorrimento, link, il browser come interfaccia, gli elementi costitutivi delle varie piattaforme, per quanto riguarda il web; gli elementi dell'interfaccia grafica, gli strumenti dei software più utilizzati ecc. per quanto riguarda il "desktop studio". è, questa, una tendenza trasversale, che percorre tutta la ricerca legata alla rete, dalla prima net.art al post internet; e che ha elementi di forte tangenza ma anche di radicale differenza rispetto all'attenzione del modernismo per la specificità mediale, legati al fatto che internet e il desktop sono sia il medium, sia l'ambiente della net art (il che ci permette di interpretarla, di volta in volta, come formalismo, critica istituzionale, celebrazione, "new aesthetics" ecc.
L'URL
Olia Lialina, Agatha Appears, 1997 (2008)
Lev Manovich, THISISMYBEAUTIFULDOMAINONEDAYILLBEGONEBUTIT-WILLREMAIN.COM, 2003
Martine Syms, EverythingIveEverWantedtoKnow.com, 2007
Jon Rafman, Sleeping Shepard Boy, 2009
Olia Lialina, Summer, 2013
Constant Dullaart, Death of the Url, 2013
Guido Segni, Untitled Url Monument, 2013 (non più online)
Rafael Rozendaal, everything always everywhere .com, 2013
Evan Roth, One Gif Compositions, 2012
Evan Roth, n57.680235e11.668160.se, 2016
Web as Canvas
Rafael Rozendaal, Websites, 2001 - in corso
Parker Ito, Who Is Afraid of RGB, 2009
HTML Color Codes. Mostra a cura di Carolyn Kane per Rhizome, Settembre 2009
Constant Dullaart, The Revolving Internet, 2010
Kamilia Kard, Free Falling Bosh, 2014
Emilie Gervais, Parked Domain Girl Tombstone, 2016
Il link
Alexei Shulgin, Link X, 1997
Heath Bunting, Own, Be Owned and Remain Invisible, 1998
Oliver Laric, Still Available 17.10.08, 2008; Taken, 2009
Dall'errore al default
Guthrie Lonergan, Hacking vs Defaults Chart, 2007
Jodi, asdfg.jodi.org
Takeshi Murata, Shiboogi, 2012
Paul B. Davis, Compression Studies, 2007
Rosa Menkman, A Vernacular of File Formats, 2009 - 2010
Cory Arcangel, Photoshop Gradient Demonstrations, 2007 - in corso
Cory Arcangel, Super Mario Movie, 2005
Cory Arcangel, Data Diaries, 2003
Focus On: Constant Dullaart
Vuk Cosic, Metablink, 1997. One pixel gif in a frameset
Olia Lialina, In memory of Chuck Poynter, user and GIF maker, 2011. In One Terabyte of Kilobyte Age, 2009 - in corso
Olia Lialina, Animated GIF Timeline, 2012 - 2019
Olia Lialina, Vernacular Web 2, 2011
Kevin Bewersdorf, Mandala, 2008
Graphics Interchange Format, 2011
Ani Gif, 2011 - in corso
Born in 1987. The Animated GIF, The Photographers Gallery, London, 2012
Moving the Still, Paddle8, online, 2012
Well Now WTF?, Silicon Valet, online, 2020
Ryder Ripps et al, Dump.fm, 2010 - 2017
Kevin Burg & Jamie Beck, Cinemagraphs
Focus On: Lorna Mills



Joshua Citarella, Compression Artifacts, 2013
Artie Vierkant, Image Objects, 2011 - in corso
Brad Troemel, Silk Road Objects
Parker Ito, Parker Cheeto: The Net Artist (America Online Made Me Hardcore), 2013
Katja Novitskova, Approximation III, 2013
Ryan Trecartin, I-BE AREA in Out of Order YouTube messy-format, 2008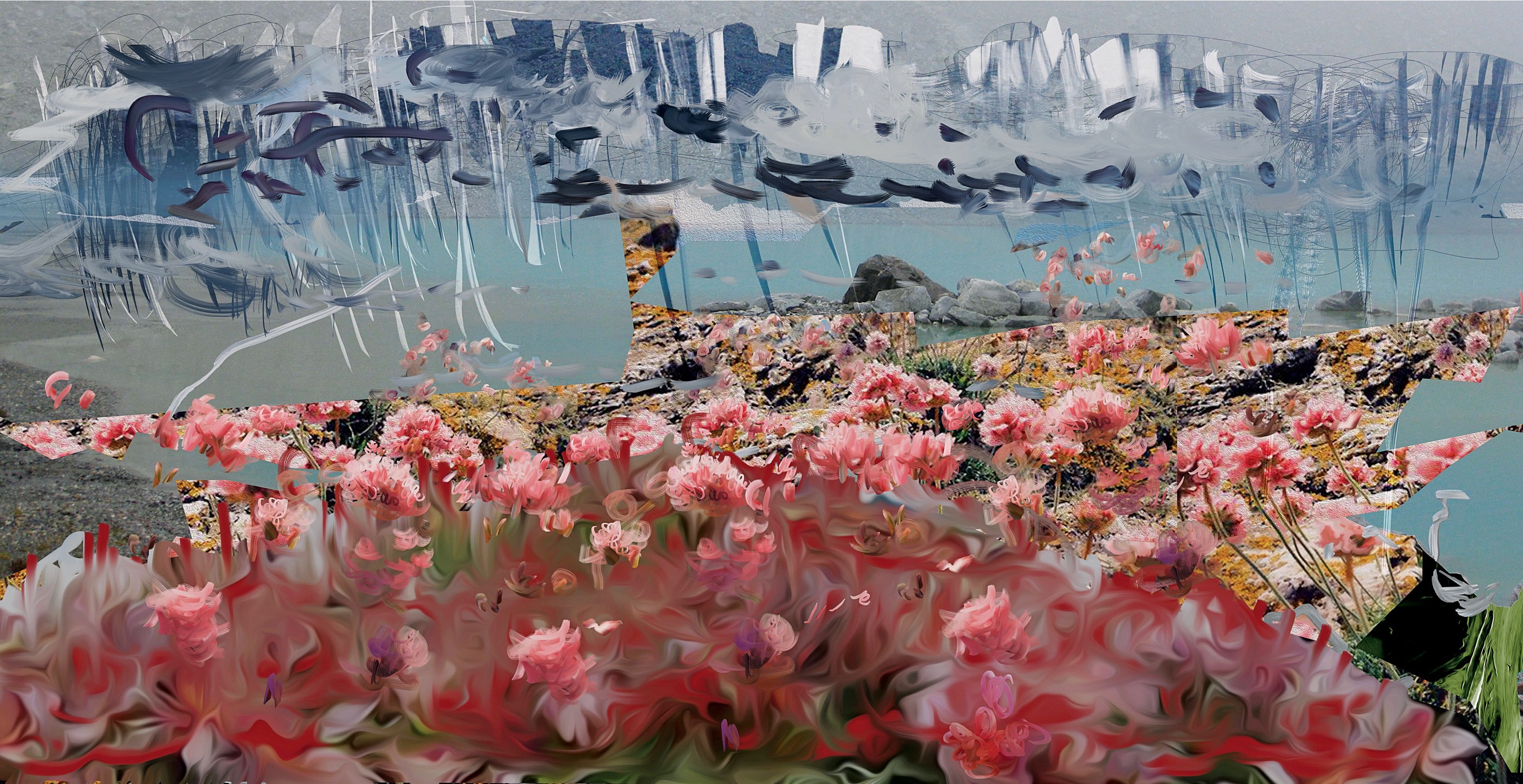 Petra Cortright, Celebrity addresses/fiji firing tour squad, 2017. Digital painting on anodized aluminium, 185.4 x 365.8 cm
Focus On: Cory Arcangel
2011
2012
2013
2014
2015
2016
2017
Hito Steyerl conquista la vetta della Power 100 di Art Review
2018
2019
2020
Hito Steyerl, How Not to be Seen: A Fucking Didactic Educational .MOV File, 2013; Hell Yeah We Fuck Die, 2016. Video installation, environment
1997: Hybrid Workspace a documenta X (a cura di Catherine David), Kassel. Maggiori informazioni
1999: Jeffrey Shaw, Benjamin Weil, Net.Art Browser. Installazione per la mostra net.condition, ZKM Karlsruhe.
2001: Mark Tribe (a cura di), Net.ephemera, Moving Image Gallery, New York
2003: Per Platou (a cura di), Written in Stone. A net.art archaeology, Museet for Samtidskunst, Oslo
2005: Luca Lampo (a cura di), Connessioni leggendarie: Net.Art 1995-2005, Mediateca Santa Teresa, Milano. Documentazione
2014: net.art Painters and Poets (a cura di Vuk Ćosić and Alenka Gregorić). City Art Gallery, Ljubljana. Video - documentazione fotografica
... to be continued